Flagging an exhibition: Bucharest museum looks at Romania's tricolour
Comments
By Rudolph Herbert & Alice Tidey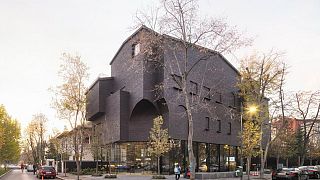 -
What do you think when you hear 'tricolour'? The world-famous French one of blue, white and red?
Well, it's worth knowing France's is not the only tricolour flag. In fact, there are about 20 countries who use three stripes of colours.
Romania is one of them and a new exhibition in Bucharest has opened that looks at the hold the flag has over citizens.
For some, the sight of the blue, yellow and red triband blowing in the wind might invoke feelings of pride, patriotism, sovereignty or even revolution. For others, it might be a symbol of oppression, propaganda and scorn.
The 27 artists featured in the "TRICOLOR" exhibition at MARe museum take visitors through an introspective, almost historical journey with the flag simply appearing in some pieces while in others, it's been deconstructed, rebuilt and reappropriated.
The pieces include photographs and paintings from the late 19th century — decades before the flag was formally adopted — including an 1866 painting by famed Romanian pioneer Gheorghe Tattarescu.
It is joined by pieces as recent as Daniel Djamo's 2015 "Who's Afraid of the Blue Yellow and Red?", a five-panel acrylic painting inspired by issues of migration and displacement as well as images from the August 2018 anti-government protests.
MARe is a recent addition to the Bucharest art scene having only opened in October. In February 2019, it will show works by the English Turner Prize-winning conceptual artist, Martin Creed.