Meghan Markle, the Duchess of Sussex | Review 2018
Comments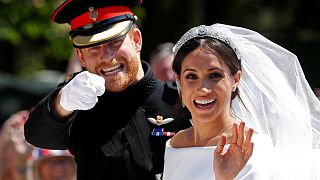 It was the year American actress Meghan Markle was formally welcomed into Britain's Royal family fold.
After a whirlwind long distance relationship and shotgun engagement, the pair swapped rings at St George's Chapel in May, a historical TV moment which was watched by millions around the world.
But their path to matrimony had not been smooth, and their marriage has since been rocked by rumours of a feud between Prince William, Harry and their wives.
Now, with a royal baby expected in the spring, Euronews' correspondent Vincent McAviney looks at Meghan Markle's evolution, from TV actress to the people's latest princess.