Queen's Christmas Message 2018: UK monarch calls for peace and goodwill as Brexit divisions endure
Comments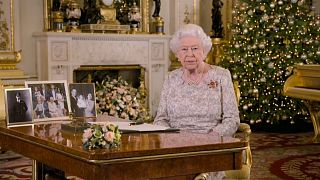 Queen Elizabeth II said the message of "peace on earth and goodwill to all" was "needed as much as ever" in her annual Christmas Day broadcast.
The UK's 92-year-old monarch highlighted the importance of people who held opposing views being respectful to each other.
Her comments come as the country remains deeply divided over Brexit and what divorce deal it will strike with the EU.
"Even with the most deeply-held differences, treating the other person with respect and as a fellow human being is always a good first step towards greater understanding," she said.
She also drew attention to key events from 2018, like England reaching the World Cup semi-finals and the weddings of her grandchildren: the Duke of Sussex, who married American actress Meghan Markle, and Princess Eugenie, who tied the knot with Jack Brooksbank.
The video was recorded on December 12 but broadcast at 15h local time (16h CET) today.
It came after Prince Philip, Queen Elizabeth's husband, missed a traditional Christmas Day church service, though a royal source said that the 97-year old was in good health and just wanted to spend the day in private, according to Reuters.
Queen Elizabeth is publicly neutral on any political matters as she is head of state.
Watch the full speech in the above player.