Gunmen kill dozens after storming Afghan government building
Comments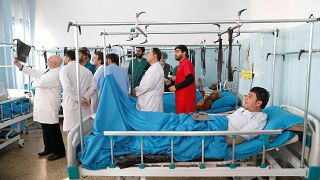 -
At least 43 people have been killed and 10 have been left injured after gunmen attacked a government building in Kabul on Monday, authorities said.
The attack started at around 15:15 local time (11:45 CET) when a suicide bomber blew up his car outside the Ministry of Public Works, located in the west of the Afghan capital.
Gunmen then stormed the nearby Ministry for Martyrs and Disabled Persons, taking many of the employees hostage and exchanging fire with Afghan security forces.
Authorities evacuated 350 civilians from the building before calling off the operation on Monday night.
Health ministry spokesman Wahid Majrod said 43 bodies had been recovered and 10 wounded persons had been transported to hospital by ambulance. One policemen and three gunmen were among the dead.
No one has yet claimed responsibility but the Taliban and so-called Islamic State both operate in the area.
Last month, gunmen attacked a compound owned by British security company G4S, killing 10. The Taliban claimed responsibility for the attack.
A suicide bombing a week earlier killed 50 people.
The attack comes just days after US President Donald Trump unexpectedly announced the withdrawal of thousands of troops deployed in Afghanistan.
On Sunday, Afghan President Ashraf Ghani installed two staunch anti-Taliban officials at the helm of the Interior and Defence Ministries.