QUIZ: So you think you know about plastic pollution? Test your knowledge now
Comments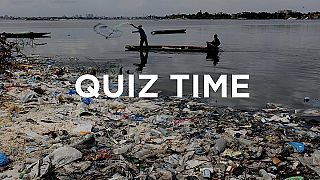 A global awareness push against single-use plastic might be one of the great legacies of 2018. Campaigns showing the current and long-term impact of plastics —and microplastics— flooded the media in 2018, as well as heartbreaking animal kingdom deaths due to plastics, raising questions about how the inevitably deadly material can be better used, re-used, and recycled.
READ: 115 plastic cups, 4 bottles and 2 flip-flops found inside dead whale
Major organisations and governments took measures to confront the issue, starting with the European Parliament, who voted to ban single-use plastic to reduce marine litter. According to the organisation, more than 80% of marine debris comes from single-use plastic.
READ: Which European countries are the best and worst at recycling plastic waste?
2018 brought a loud wake-up call regarding the great plastic footprint we're leaving behind. But did YOU wake up? Are you familiar with the scale of mismanaged plastic waste? Is your country on the blacklist? Test your knowledge with the quiz below!