115 plastic cups, 4 bottles and 2 flip-flops found inside dead whale
Comments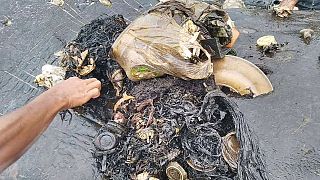 A dead sperm whale was found washed ashore in Indonesia with nearly 6kg of plastic waste in its stomach, according to park officials.
Rescuers from Wakatobi National Park found the rotting carcass of the 9.5-metre sperm whale late Monday near the park in Southeast Sulawesi province after receiving a report from environmentalists that villagers had surrounded the dead whale and were beginning to butcher the rotting carcass, park chief Heri Santoso told the Associated Press.
Park chef Heri Santoso told AP that researchers from wildlife conservation group WWF and the park's conservation academy found about 5.9kg of plastic waste in the animal's stomach containing 115 plastic cups, four plastic bottles, 25 plastic bags, 2 flip-flops, a nylon sack and more than 1,000 other assorted pieces of plastic.
The death caused grave concern among environmentalists and government officials in Indonesia, which is known as one of the world's largest plastic-polluting countries.
Indonesia is the world's second-largest plastic polluter after China, according to a study published in the journal "Science" in January. It produces 3.2 million tons of mismanaged plastic waste a year, of which 1.29 million tons end up in the ocean, the study said.
"Although we have not been able to deduce the cause of death, the facts that we see are truly awful," Dwi Suprapti, a marine species conservation coordinator at WWF Indonesia, was quoted as saying by the Associated Press.
Pollution from plastics has been a cause for concern on every continent. A preliminary European Commission assessment of the voluntary pledges received by the industry, which was published Tuesday, shows significant commitments, although more will be needed to achieve the objective of a well-functioning EU market of recycled plastics.
Following an EU-wide pledging campaign as part of the European Plastics Strategy, the European Commission has given a preliminary assessment, which shows that EU industry is significantly committed to recycling plastics. The report states that at least 10 million tons of recycled plastics could be supplied by 2025 if the pledges are fully delivered. However, on the demand side, only 5 million tons are expected so far, demonstrating that more will be needed to achieve the objective of a well-functioning EU market of recycled plastics.