European stocks set for worst year since 2008
Comments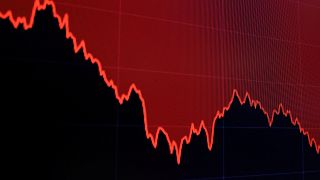 European shares are down nearly 14% and are on track for their worst year since the global financial crisis of 2008.
Uncertainty over Brexit, France's protests and Italy's budget proposals are among geopolitical factors that have drowned European stocks in turmoil.
Companies hoping for holiday magic were disappointed in another day of steep losses on Christmas's Eve.
London's FTSE 100 closed down 0.6% during a shortened session before the Christmas holidays, while the French CAC 40 slipped 1.5%.
Germany's DAX and the Italian FTSE MIB were not open on Monday.
Many European benchmarks indices are down double-digits overall for the year. France's CAC has fallen by 12.5%, the FTSE 100 by 13.1% and Italy's FTSE MIB 15.8%.
Germany's export-oriented DAX index, which is heavily exposed to China, is set to be the worst performer, down more than 17% so far in 2018.
Europe's banking sector has been riddled with scandals in 2018. On 20 December, European Union antitrust regulators charged Deutsche Bank (Germany), Credit Agricole (France), Credit Suisse (Switzerland) and another bank for involvement in a bond trading cartel, according to Reuters.
Cars have been another disappointing market sector for Europe in 2018.
Manufacturers are fighting to gain sizable chunks of the industry's electrical car market and face the threat of tariffs from the US.
German companies BMW and Volkswagen are trying to boost sales amid growing scandals while the UK produced 129,228 fewer cars in first 11 months of 2018, dropping 8.2%.
Recent downtrends are not only being seen in Europe.
US stocks continued to plunge in the week leading up to Christmas as investors are facing the likelihood of a prolonged US government shutdown. The Dow Jones Industrial Average dropped 500 points as of 12:30 pm ETD Monday, recently suffering its worst losses in a decade.
To push back against economic panic, US Treasury Secretary Steven Mnuchin held calls with top US bankers over the weekend following the recent slide in equities.
"The banks all confirmed ample liquidity is available for lending to consumer and business markets," a statement from the Treasury said.