Buyers rush to London Christmas Eve market auction for premium cuts of meat
Comments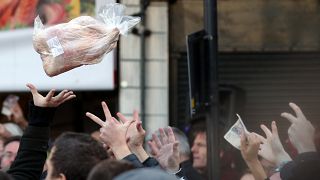 -
A London meat market held a public auction on Christmas Eve with auctioneers selling premium cuts usually snapped by top restaurants and hotels to shoppers.
The tradition at Smithfield Market began around 150 years ago and has become a popular event with turkeys, beef and pork selling like hot cakes.
Chairman of the Smithfield Market Tenants' Association Greg Lawrence, who has worked at it since he was 16 years old said: "This is a jewel in the City of London, it doesn't happen anywhere else in the UK now, and we hope to carry it on in the foreseeable future."
Members of the public saved 50 to 60% off buying at the auction compared with purchasing at a supermarket, Lawrence said.
Buyer Anne Oyewole and her brother Gabriel said they came for the atmosphere as much as for the cheap meat.
"The auctioneer and, you know, all the other people who were helping to feed all the meat through - it's just great fun and it's really entertaining," said Oyewole.
At the end of the auction, Lawrence gives the remaining buyers a chance to win a steak if they can guess heads or tails correctly as he tosses a coin.
"Heads - it's yours!" he shouts to applause from the crowd.