Bethlehem enjoys busiest Christmas season on record
Comments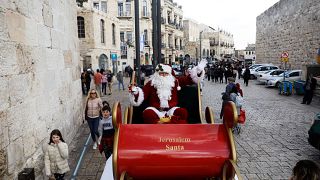 Hotels dotted around the biblical hometown of Jesus are almost fully-booked this Christmas as Bethlehem enjoys its busiest Christmas season on record, the Palestinian Ministry of Tourism has said.
It is thought a drop in knife and car-ramming attacks has prompted an influx of visitors this year, who have been flocking to Bethlehem's Church of the Nativity – a cave which enshrines a site thought to be the birthplace of Jesus.
"This is first time in my life coming here, this is a wonderful place," said Malaysian tourist Joseph Ahlan.
Watch a timelapse of the town in the video player above.