NGO ship with more than 300 migrants on board stranded on high seas
Comments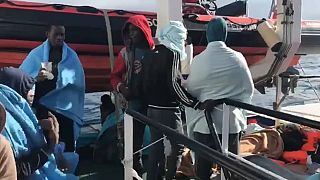 A ship with 311 migrants on board, including women and children, is searching desperately for a Mediterranean port that will accept them after Malta and Italy refused permission to dock.
Italy's Interior Minister Matteo Salvini was again the driving force behind Italy's refusal, and tweeted an attack on the NGO, Open Arms, that rescued them. Greece, France and Spain have been approached for permission to dock, without any answer
"Right now we are on our way to Algeciras, (southern Spain), it is not yet confirmed that we will disembark there but we were told, (by the Spanish authorities), to head there until new orders.
We are now almost 900 miles from there, so depending on the sea conditions we can arrive between December 28 and 30, so hopefuly on the 28th.
We are still heading north parallel to the Tunisian coast. In two different operations we evacuated three people, the first one by helicopter, a 2-day-old baby who hadn't eaten since it's birth and also of course the mother, and later we evacuated a young boy aged 14 who was travelling alone, who had an infection in his face, he was evacuated yersterday in the afternoon," says Open Arms' Gerard Casal.
Refusing to allow a ship in distress to dock is a violation of international maritime regulations, but these seem to have gone by the board in the Mediterranean where migrants are concerned.
For the moment Open Arms has to find a way to resupply the ship while at sea, and is organising supply vessels to sail out with food, water and medical supplies. But that is not a sustainable situation.