Indonesia tsunami: Rescuers use drones to search for survivors as death toll climbs to 429
Comments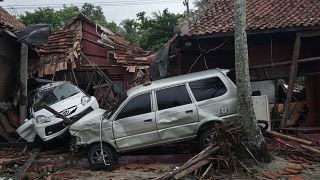 A tsunami has killed over 429 people on the Indonesian islands of Java and Sumatra, the country's disaster management agency has confirmed.
The deadly wave is thought to have been triggered by an underwater landslide caused by a volcanic eruption, officials added.
Over 1,400 people were also injured in the tsunami, which was exacerbated by an abnormally high tide. More than a hundred others remain missing.
The tsunami struck around 15.30 CET on Saturday.
Residents near the volcano that erupted, Anak Krakatau, have been warned to stay away from the coast as fears grow it could trigger another tsunami.
The volcano erupted again on Sunday, seething ash and smoke.
The country's vice president Jusuf Kalla said the death toll is likely to increase as relief efforts continued.
As night fell, workers and ambulances struggled to reach the affected areas because some roads were blocked by debris, overturned cars and fallen trees.
The country, a vast archipelago, has suffered a string of disasters this year, including deadly earthquakes affecting the tourist island of Lombok and Sulawesi. Then, in October, a Lion Air passenger plane crashed into the Java Sea, killed nearly 200 people.
On Tuesday, rescuers used drones and sniffer dogs to search for survivors along the devastated 100km (60-mile) stretch of coast.
"There are several locations that we previously thought were not affected," said Yusuf Latif, spokesman for the national search and rescue agency.
"But now we are reaching more remote areas...and in fact there are many victims there," he added.
Authorities said rescuers were working around the clock to reach six villages, currently inaccessible by road and where waves from the tsunami were believed to be as high as five metres.
On December 26, 2004, a tsunami killed 226,000 people, including more than 120,000 in Indonesia.
Where did the tsunami hit?
What caused the tsunami?
Indonesia's disaster management authority (BNPB) believes the tsunami was caused by a volcano erupting nearby.
Footage has emerged of Anak Krakatau spewing lava on Saturday evening.
BNPB says this is thought to have caused an underwater landslide and triggered the tsunami.
What do we know about the tsunami's victims?
Unverified footage has been circulating on social media that purports to show a beachside music concert as the tsunami hit.
Four members of Seventeen — bassist M. Awal "Bani" Purbani, road manager Oki Wijaya, guitarist Herman Sikumbang and crew member Ujang — were among those killed by the tsunami, the band said.
The group's lead vocalist, Riefian Fajarsyah, shared a tearful video message on his Instagram account.
Police officers rescued a young boy who was trapped in a car buried under fallen trees and rubble for nearly 12 hours, according to a video of his rescue posted on Twitter by the Indonesian National Police.
A Norwegian national told of how he and his family escaped the tsunami as waves hit the hotel they were staying at. Øystein Lund Andersen from Bodo in Norway, said he managed to escape as the area around him in Anyer, West Java - filled with water drowning cars.
Indonesia's disaster-filled year
There were several earthquakes that flattened parts of the tourist island Lombok in August and left hundreds dead.
In September a double earthquake-tsunami on the Indonesian island of Sulawesi left more than two thousand people dead.
Nearly two hundred people died when a Lion Air passenger plane crashed into the Java Sea in October.