Europe briefing: Five stories to know about today
Comments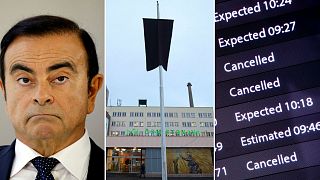 1. Gatwick Airport reopens after drones chaos
London's Gatwick Airport said early Friday it was working with airlines and air traffic controllers to introduce a limited number of flights over the early hours of Friday morning.
Flights from the airport south of the capital were grounded on Thursday after drones were spotted near the airfield on Wednesday evening.
The British military deployed specialist equipment to help tackle the problem.
Flight suspensions affected 10,000 passengers on Wednesday evening and a further 110,000 were due to take-off or land at the airport on Thursday.
2. More than a dozen dead in Czech coal mine blast
An explosion at a coal mine in the Czech Republic has killed 13 people, mining company OKD has said.
It said earlier that a methane blast more than 800 metres underground devastated areas of the CSM coal mine near the eastern town of Karvina on Thursday.
The dead were 11 Poles and two Czechs, the company said.
The blast is the worst mining accident in the Czech Republic since 1990, when 30 died in a fire at a facility near Karvina, according to the CTK news agency.
3. Marseille train derails
As many as 14 people were left with minor injuries after a metro train in Marseille partially derailed.
"A part of the traction system broke off and damaged a tyre that came off the rails," said the transport authority (Régie des transports métropolitains) in a statement.
"14 passengers were slightly injured by falling ceiling grids inside the cars. They were treated by paramedics."
4. Catalonia protesters block roads for PM's visit
Police dragged Catalan separatist protesters off highways on Friday as Spanish Prime Minister Pedro Sanchez began a cabinet meeting in the regional capital Barcelona in an attempt at reconciliation.
Dozens of protesters, some wearing high-visibility vests, sat on the AP 7 highway — which runs down the Mediterranean coast — hands held in the air as police in riot gear pulled them from the road. Some roads were blocked with tyres.
One man was arrested in central Barcelona carrying materials that could be used to build an explosive device, the regional Mossos police force said on Twitter. Around 40 roads were affected by the protests, local media said.
5. Carlos Ghosn re-arrested on new charges
Japanese authorities re-arrested former Nissan chairman Carlos Ghosn on Friday on new charges before he could be released on bail, local media reported.
Ghosn, who has been held in prison for the past month on allegations of financial misconduct, could therefore spend another ten days in a Tokyo jail.
He is now accused of having made Nissan shoulder a personal investment loss of $16.6 million (€14.5 million) in October 2008 as the global financial crisis was taking hold.
The move comes after a Tokyo court unexpectedly rejected prosecutors' request to extend Ghosn's detention which could have seen the Brazilian-born businessman released on bail on Friday.
Ghosn is a Brazilian-born businessman who also has French and Lebanese nationality. He was named chairman, president, and CEO of Nissan in 2008 and chairman and CEO of Renault, the French multinational automobile manufacturer, in 2009.