Carlos Ghosn re-arrested on new charges
Comments
By Alice Tidey & Reuters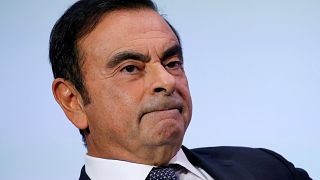 -
Japanese authorities re-arrested former Nissan chairman Carlos Ghosn on Friday on new charges before he could be released on bail, local media reported.
Ghosn, who has been held in prison for the past month on allegations of financial misconduct, could therefore spend another ten days in a Tokyo jail.
He is now accused of having made Nissan shoulder a personal investment loss of $16.6 million (€14.5 million) in October 2008 as the global financial crisis was taking hold.
The move comes after a Tokyo court unexpectedly rejected prosecutors' request to extend Ghosn's detention which could have seen the Brazilian-born businessman released on bail on Friday.
The dramatic turn of events on Friday came hours after Ghosn, through his lawyer, Motonari Otsuru, and quoted by Japanese public broadcaster NHK described the situation as "absolutely unacceptable" and said he'd hold a news conference after his release.
"I want to have my position heard and restore my honour in court," he added.
Fall from grace
Ghosn was first arrested on November 19 after a Nissan internal probe found him guilty of financial misconduct including appropriating company funds for his personal use and misreporting his income to Japanese authorities to the tune of five billion yens (€39 million) over five years.
His fall from grace was precipitated over the following days as both Nissan and Mitsubishi fired him from their boards.
French car-maker Renault has so far not replaced Ghosn as CEO opting instead to put an interim governance in place. The country's Economy Minister Bruno Le Maire said last month that the government — which owns 15% of the group — would not push for Ghosn's departure because "we have no proof."
The case has gripped the Asian nation as Ghosn had acquired quasi-cult status for rescuing the country's flagship car manufacturers with his life turned into a manga comic book and bento boxes named after him in some restaurants.
But it has also drawn worldwide attention to Japan's murky legal system, sparking criticism over practices including keeping suspects in detention for long periods and prohibiting defence lawyers from being present during interrogations, which can last eight hours a day.