Carlos Ghosn: the car industry's expensive 'cost killer'
Comments
By Alice Tidey & Reuters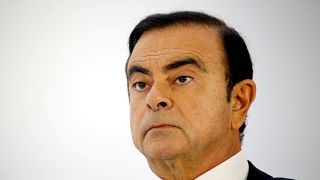 -
Copyright

REUTERS/Regis Duvignau/File Photo
Brazilian-born businessman and Renault CEO Carlos Ghosn has, in just four decades, rescued several of the world's most well-known car companies from the brink of collapse.
But his reputation took a massive hit on Monday, when Nissan revealed Ghosn had been found guilty of financial misconduct by an internal investigation and that he would be removed from his position as chairman.
Euronews takes a look back at Ghosn's career so far.
'Le Cost Killer'
Ghosn was born on March 9, 1954 in Brazil's northwestern city of Porto Velho but moved to Lebanon, where part of his family is from, at the age of six.
After completing his secondary education, Ghosn travelled to France where he attended some of the most prestigious schools including Ecole Polytechnique and Ecoles des Mines, from which he graduated with engineering degrees.
In 1978, he joined tyre-manufacturer Michelin where his rise was swift: he was appointed plant manager in 1981, made head of research and development for the tyre division in 1984, and was promoted to chief operating officer of Michelin's South American operations in 1985.
He promptly turned the struggling company around and was sent to do the same in North America before French car manufacturer Renault, also flailing at the time, came knocking in 1996.
A year later, Ghosn had returned Renault to profitability and cemented his reputation as "le cost killer."
The Alliance
Then firmly established at Renault, Ghosn helped implement a strategy of consolidation — when several businesses merge into a larger organisation — and cheap or affordable products.
In 1999, Renault acquired over 36% of Nissan and, while retaining his job for the French brand, Ghosn then took on the role of Nissan CEO in 2000. The Japanese carmaker was buried in debt and Ghosn did what he did best, cutting costs. Plants were closed, workers were fired, and part of the business was divested.
He also went about changing the culture by rewarding financial performance at the managerial levels over seniority — a deeply entrenched Japanese custom — to entice younger employees and women.
Ghosn, who had said he would resign if he couldn't quickly turn the company around, won his bet. In 2005, he was named Renault CEO and became the first person to run two companies on the Fortune Global 500 at the same time.
His tenure was then focused on producing affordable cars and he also kickstarted a massive investment plan to research and manufacture electric cars.
In 2016, Nissan acquired a controlling 34% stake in Mitsubishi thus creating the world's fourth-largest auto group, and Ghosn was made chairman of Mitsubishi.
He stepped down as Nissan CEO in April last year but retained his chairman positions in Japan and his CEO position at Renault.
1 billion yen
For his efforts, Ghosn acquired quasi-cult status in Japan, with his life turned into a manga comic book and he even had a bento box named after him in some Tokyo restaurants.
Still, focus turned to his remuneration. In 2016, 54% of Renault shareholders voted against Ghosn's €7.3 million pay package for 2015 — Ghosn's Nissan earnings were fairly close.
Last year, Nissan disclosed that it had paid Ghosn over 1 billion yen (€7.8 million) in 2016, while Renault forked out an additional €7.06 million. He also received salaries for his three chairman roles.
Renault, which reported a record profit for 2017 earlier this year, also announced that Ghosn would stay on as CEO until 2022 but with a 30% pay cut.