French police demand better compensation in 'blue vest' protest
Comments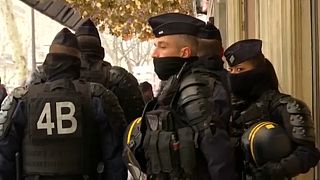 First, it was the gilets jaunes (yellow vest), now it's time for the gilets bleus (blue vest) protest. After weeks of violent demonstrations, French police say they're exhausted, overworked and underpaid, and are demanding better compensation and working conditions.
Police unions in France have repeatedly complained about fatigue in recent years and the gilets jaunes' month-long protests have pushed the force to a breaking point.
At a time when police security has been stretched thin – with protests, terrorism and the migrant crisis - police unions say they are in need of more money, not less, to be able to properly pay staff and afford new recruits.
But the French police movement appears to have been much more effective than the yellow vests. It took only one day of protest action, with the symbolic closure of selected police stations around the country and a relaxation of police checks at key places, such as Roissy Airport, to see their demands satisfied.
There was an agreement between the Interior ministry and the three largest police union groups for a monthly rise in salaries from January 1, depending on rank and field of expertise, ranging from 120 to 150 euros a month.
The representative of the second largest police union in France said this is recognition of their intense work in the last months but it does not solve all the problems.
Interior Minister Christophe Castaner agreed to revoke a 300 euro benefit President Emmanuel Macron had announced for 11,000 uniformed officers in recognition by the State of their overtime during the yellow vest protests, a gesture police representatives had said was disparaging. It will only be maintained for managerial and technical personnel.
In total, police are claiming 274 million euros for overtime over recent years.