Time for the 'gilets bleus'? Exhausted French police to protest better working conditions
Comments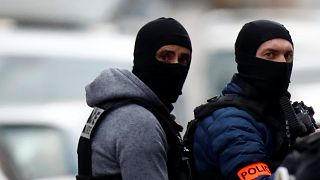 First, it was the gilets jaunes (yellow vest), now it's time for the gilets bleus (blue vest) protest.
After five weeks of violent demonstrations, French police say they're exhausted, overworked and underpaid, and will be protesting this week to demand better compensation and working conditions.
Police unions in France have repeatedly complained about fatigue in recent years and the gilets jaunes' month-long protests have pushed the force to a breaking point.
On Wednesday, police across France will hit the streets, calling themselves "les gilets bleus".
On social media, police union Alliance, are calling the protest "Act 1", using the same naming convention given by the gilets jaunes movement.
On his Twitter account, Alliance speaks of "disdain" for the Minister of the Interior:
Police union bosses are encouraging lawmakers to vote down the upcoming 2019 police budget (€62 million) this week in the French senate, that will see cuts across the force and many fear working conditions would deteriorate, if approved.
At a time when police security has been stretched thin – with protests, terrorism and the migrant crisis - police unions say they are in need of more money, not less, to be able to properly pay staff and afford new recruits.
Rocco Contento, representative for the Paris Unité-SGP police union, told Franceinfo that his colleagues had been stretched to their limits.
"Police resources are not inexhaustible. We were practically at our maximum - 89,000 members of the armed forces throughout France (out of 100,000)… We can't do any more," he said, when asked why smaller cities outside of Paris and Lyon such as St. Etienne received less police protection.
Another union, UNSA police, said its members only would provide minimum services Tuesday and asked for a meeting with French President Emmanuel Macron. The union asked the government earlier this month for payment of overtime hours officers put in work quelling the protests.
"Police are not doing well and nobody is listening," Frederic Lagache, of the Alliance union, said.
Alliance is encouraging police forces to stay inside their stations on Wednesday and only to respond to emergency calls.