Is the UK facing new elections after no confidence call? Euronews Answers
Comments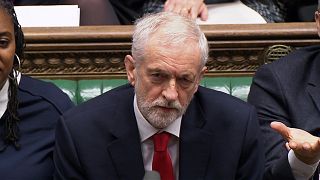 What did Jeremy Corbyn actually do?
The opposition leader called for a vote on the motion that "That this House has no confidence in the prime minister due to her failure to allow the House of Commons to have a meaningful vote straight away on the withdrawal agreement and framework for future relationships between the UK and European Union."
He was reacting to Theresa May's decision to defer a full vote in parliament on the deal she has secured for Brexit, originally scheduled for last week, until the middle of January.
What does the statement actually mean?
Because Corbyn chose to target Theresa May personally, rather than her government, his measure is not considered an official No Confidence vote that could, if lost by the government, trigger a general election. Instead, it is a simple test of credibility. Furthermore, unlike a No Confidence vote in the government, it will not automatically be allocated time in Parliament.
So will it happen?
It seems not. Government sources have told British media that the move is a "stunt" and they will not make time for it to happen.
Labour reacted by suggesting the prime minister was "scared".
But the smaller opposition party, the Liberal Democrats, who do not have the right to call a No Confidence vote, suggested that Labour had failed to hold the prime minister to account.
Didn't May just face a vote of no confidence?
Last week the prime minister won the support of her own MPs after rebels in her Conservative Party attempted to remove her, following frustration over the content of her Brexit deal.