Migrant workers in the UK fear the post-Brexit future
Comments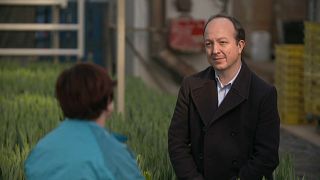 It may feel a world away from the politics of Westminster. But EU migrant workers at Lambs flower farm in Spalding, eastern England, worry about what will now come of Brexit. Virtually all the staff come from outside Britain.
Among them, Beata Wolkowska from Poland – who's made England her home.
"Everybody is worried if there will be a chance for us to come back here if we go home," she says. "I would like that everything would stay the same."
The irony is that while most people in this region voted for Brexit, with migration a big issue, it's migrant workers who are helping to fuel the local economy.
Staff here – some permanent, some temporary – are from Poland, Lithuania, Latvia, Bulgaria and Romania.
The boss wants Theresa May to stay to see through Brexit – but also wants certainty for her migrant workforce.
"I just don't think it's being recognised how much these people are putting into the system, so we need to recognise that and recognise it quickly and we need to get a formula that works, very quickly. As this industry is really under threat," says Sue Lamb.
Down the road in Brexit Boston, Anton and his wife Maria run Café de Paris. Anton was raised in France. Now a British citizen, his wife is from Poland. And he's pro-Brexit – but thinks public opinion could be changing.
"I think it would be no deal otherwise we gonna go for a referendum, which is, I can say, probably we're going to stay in Europe, despite all the brexiteers," he says. "I'm sorry but that's how people are going these days and the perception of people in the streets is they are fed up with the negotiations. Nobody knows what's going on, nothing is clear. Theresa May talked vague, so no concrete resolution for this problem so the people are losing faith in it so we may stay with Europe."
Maria – a migrant – is banking on Brexit tightening Britain's borders.
"I'm not saying the immigration should stop completely," she says. "But we have to control actually how many people are coming."
As Theresa May tries to salvage her Brexit deal – having won the no-confidence vote – Boston waits.
Some Brexit supporters may be changing their minds here, but the vast majority – it seems - are still desperate to see this messy divorce go through, with or without a deal.