COP24 agreement sidesteps financial issues
Comments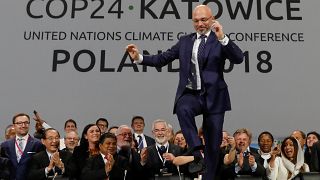 The conference President did his best to whip up enthusiasm from delegates - but there's been a lukewarm reception from observers to the COP24 climate change deal agreed on Saturday by some 200 nations in Katowice, Poland.
The agreement is short on hard pledges, but for Michal Kurtyka the important thing is that progress is being made.
"As I already said on Thursday night," the COP24 President said. "This deal hangs in fragile balance. We will all have to give in order to gain. We will all have to be courageous to look into the future and make yet another step for the sake of humanity."
A 156-page rule book fleshes out details on how to implement the 2015 Paris agreement.
"I am very very happy," said German Environment minister Svenja Schulze. "This is the second time that the world says 'yes' to the Paris climate agreement. In Paris, we said what our goals were and here, we agreed on the rules for getting there – and with the whole world! That's an enormous achievement."
The target is to limit global warming well below 2 degrees centigrade. The rulebook covers issues such as how countries should establish and monitor emission reduction plans. But it's less clear on how a pledge of €90 billion to poorer countries will be financed - or on how a carbon credit scheme might work.