Theatre & debate mark Act V of Yellow Vests' Paris protests
Comments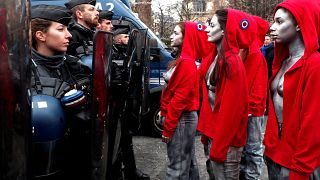 Fewer Yellow Vest protesters are stalking the streets of Paris this Saturday for the fifth consecutive week of protests, and there have been some clashes with police on the Champs Elysees, but in general the marchers have been peaceful.
"We don't want to live on handouts. we don't want to be on the hook to a bulimic state that binges on us more and more, and gives us back less and less. We want to live freely. free to really enjoy the right to the fruits of our labour," said one man on a bullhorn adressing the large crowd, which roared its approval.
The emphasis this Saturday has been on the message, not the anger. And it's a message heard loud and clear by those present.
The French public has heard it, too, and despite the violence has backed the Yellow Vests.
Organisers' appeals for cool heads went unheard when confrontations came with the police, but as yet there have been no major incidents.
At one moment there was a staged protest, women inspired by the iconic Delacroix painting of Marianne wearing revolutionary bonnets brought a whiff of the barricades and gunpowder to the day.