Egypt discovers untouched tomb in the ancient necropolis of Saqqara
Comments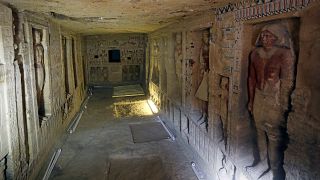 Egypt has unveiled a well-preserved 4,400-year-old tomb decorated with hieroglyphs and statues south of Cairo.
The tomb was found at the ancient necropolis of Saqqara and dates back to the Fifth Dynasty of the Old Kingdom.
Unlike many others it was discovered untouched and hadn't been looted.
"It seems that this one is full of debris, but I can imagine that, that all the objects, or most of it, would be found here in this area," Mostafa Waziri, the Secretary General of the Supreme Council of Antiquities, told reporters from inside the tomb.
One of the shafts was unsealed with nothing inside, but the other four were sealed. Egyptologists are expecting to make more discoveries when they excavate them.
The tomb dates from the rule of Neferirkare Kakai.