Brazil to extradite Italian citizen convicted of murder in the 70s
Comments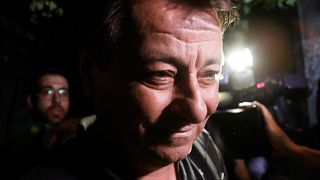 Brazil's President Michel Temer has signed an extradition order for Italian citizen Cesare Battisti.
He had been living in a coastal town in southern Brazil but police say they've yet to find him.
On Thursday Brazil's Supreme Court overturned an injunction preventing his extradition.
Battisti's lawyer has now confirmed he's filed an appeal against the decision but says he doesn't know where he is.
Battisti had been serving four life sentences in Italy for killings he carried out as a member of the Armed Proletarians for Communism in the 1970s.
He managed to escape from jail in 1981 and, after a spell in France as a writer and then Mexico, settled in Brazil.
The Italian government nearly obtained his extradition in 2010 but leftist President Lula granted Battisti asylum on his last day in office.
Brazil's incoming far-right President-elect Jair Bolsonaro says he'll immediately extradite Battisti when he assumes power in January.