Britons to pay €7 when travelling to EU after Brexit
Comments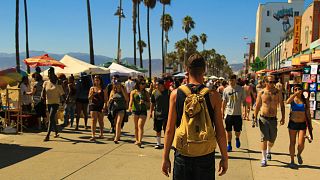 British citizens will be required to pay €7 every three years when travelling to EU countries, but will not require a visa.
They will need to apply for and buy another document from 2021.
The European Commission confirmed that the ETIAS (European Travel Information and Authorisation System) visa waiver scheme will apply to the UK as a third country.
The institution put this in a proposal in November, stating the ETIAS system would cover "United Kingdom nationals once Union law on free movement of Union citizens ceases to apply to them, as to other visa-free third country nationals."
Citizens of nations where ETIAS applies will be allowed to go into countries in the Schengen Zone for business or travel purposes for up to 90 days, according to the EU's website on Schengen visa information.
During these 90 days, visitors will not be allowed to work or study but "can engage in business and tourism activities".
It also allows people to visit Schengen countries for medical and transit reasons.
Applicants will undergo a detailed security check to determine whether they can be allowed to enter any Schengen Zone country.
It will be a completely electronic system and resembles the US Electronic System for Travel Authorization (ESTA), which serves a similar purpose.
Legal proceedings to pass the ETIAS started in 2016 and the system is expected to be in place by 2021.
British Prime Minister Theresa May was in Brussels at a summit on Friday seeking "legal and political reassurances" from European officials on the Irish backstop issue, an issue integral to her government's Brexit deal.
She said there will be further Brexit talks with the EU, in an address at the EU summit.