May heads for Brussels after surviving rebels' challenge
Comments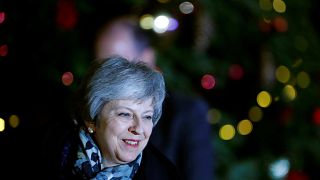 Democracy behind closed doors. Members of Theresa May's own party squeezed into committee room 14 in Westminster to cast their secret ballots. This was a vote just for the Tories and came after months of internal division.
"The result of the ballot held this evening is that the parliamentary party does have Conservative Party does have confidence in Theresa May as leader of the Conservative Party," announced Graham Brady, the Chairman of the Conservative Party's 1922 Committee.
200 to 117 in her favour not exactly a resounding victory but a win is a win and May now claims to be fired up with a sense of a "renewed mission" to deliver Brexit.
Theresa May said: "Following this ballot we now need to get on with the job of delivering Brexit for the British people and building a better future for this country; a Brexit that delivers on the vote that people gave, that brings the country back together rather than entrenching division. That must start here in Westminster with politicians on all sides coming together and acting in the national interest."
But the prime minister remains under fire despite seeing off the challenge to her leadership . Her critics on all sides of the political divide now see her as a lame duck leader.
Jacob Rees-Mogg, pro-Brexit Conservative MP, said: "I think the Prime MInister should resign. She cannot get her deal through, her very bad and unsatisfactory withdrawal agreement its not supported by the DUP by many Conservatives or by the Opposition."
Richard Burgon, opposition Labour party MP also said the Prime Minister was weakened by the result:
"Nearly 40 percent of those who know Theresa May best, her own Conservative MPs, have voted to say they have no confidence in her as prime minister. And what that means really is somebody who had virtually no negotiating credibility as it stands has now got even less."
The vote had been triggered by MPs angry at her Brexit policy, which they say betrays the 2016 referendum result. She says she is listening but her priority is now trying to persuade EU leaders at today's summit to change a deal they insist can't be renegotiated.