Strasbourg shooting: 'At least two dead', France's security threat level raised
Comments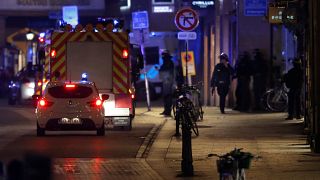 For further updates on this story see: Strasbourg Christmas market shooting: what we know
At least two people were killed and one was left brain dead after a gunman opened fire in central Strasbourg on Tuesday evening, Rémy Heitz, France's anti-terror prosecutor said.
The minister also announced that the country's "Vigipirate" security threat level would be raised.
Heitz confirmed earlier reports from police that 12 people were injured in the attack, six seriously.
The gunman was still on the run and security would be strengthened at all Christmas markets and border controls reinforced, Ministor of the Interior Christophe Castaner announced in the early hours of Wednesday.
As many as 350 police and military, two helicopters, among other forces were deployed to catch the suspect, Castaner said.
The shooter opened fire at 8 pm CET on Orfevres road, according to a police statement.
He was injured by military gunfire before he ran away and authorities said they had identified and were searching for him.
Two police sources told Reuters the attacker had been identified as a 29-year old man. His motive for the attack was not known, said the Paris prosecutor.
The shooter was on France's "fiche S" watch list for individuals considered to be a serious threat to national security, said AFP, citing the prefecture.
There was an "exchange of shots in the area where the attacker was reportedly holed up", the news agency quoted police as saying.
Police evacuated Strasbourg centre and instructed people to leave via the north and "not to go in the direction of Neudorf". The area was put on lockdown.
The European Parliament in Strasbourg, situated a few kilometres from where the attack took place, was put on lockdown during the night.
The Grand Est regional authority and Strasbourg city council said in a statement it had opened Kléber high school and its gymnasium for people who could not reach their homes to take shelter.
Strasbourg's mayor announced the Christmas market will be closed on Wednesday.
'I saw shots land 10 metres away'
"I saw shots land in a wall 10 metres in front of me and started to run with those around me in the opposite direction," Stephan, a witness told Euronews.
"I live just next to the spot and there were lots of tourists around, so I opened my doors and let people inside," he added.
The counter-terrorism prosecutor has opened an investigation into the attack, the prosecutor's office said.
Strasbourg, a city in northeastern France, is famed for its Christmas market, which draws millions of tourists every year.
Sitting near the German border, it is also home to the formal seat of the European Parliament.
Here's how events unfolded: