Spain threatens to send national police to end Catalonia road protests
Comments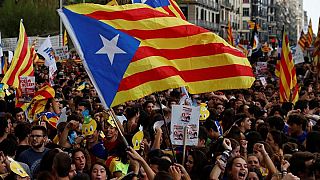 The Spanish government says it will have to send national police to Catalonia if regional authorities fail to prevent protests such as the one that closed a major highway over the weekend.
Interior Minister Fernando Grande-Marlaska said Catalan police did nothing to stop separatist protesters blocking the AP-7 toll road for over 15 hours. The busy highway runs along Spain's Mediterranean coast.
The warning came in a letter from Grande-Marlaska to his Catalonian counterpart.
According to the news agency Reuters, the minister wrote: "Serious disruptions of public order and traffic security, such as those seen in the last few days, need to be dealt with by the regional police ... if this does not happen the government will order an intervention by the state police."
Sending national police to the region would risk inflaming the situation Catalonia, where there is an ongoing campaign for independence from Spain.
In September last year, Madrid ordered thousands of national police officers to the region ahead of an illegal independence referendum that took place on October 1st, 2017.
That resulted in the previous conservative government taking back direct control of the region and the imprisonment of several Catalan political leaders who are still awaiting trial on charges including rebellion. Four of them are on hunger strike.
A spokeswoman for Catalonia's government, Elsa Artadi, said it would respond to the questions raised in the letter but did not go into further detail. She repeated calls for dialogue between Madrid and Barcelona.
Spain's new Prime Minister Pedro Sanchez - who came to power in June - has said he is open to a referendum on greater autonomy and has promised to lay out detailed plans in parliament on Wednesday. But Grande-Marlaska said the local authorities had to show they could keep order and prevent a repeat of Saturday's protests.