Europe briefing: Theresa May's Europe tour, Brexit, Macron's TV address
Comments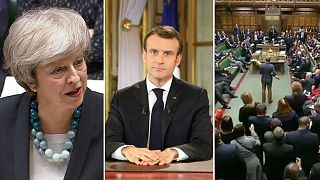 -
1. Theresa May's Europe tour
British Prime Minister Theresa May is touring European cities to discuss her Brexit deal today: she is meeting with Dutch prime minister Mark Rutte in The Hague, German Chancellor Angela Merkel, European Council president Donald Tusk and European Commission director Jean-Claude Juncker in Brussels.
Rutte tweeted of their meeting: "A useful dialogue which saw us discuss the latest #Brexit developments."
This follows her abrupt decision to postpone a parliamentary vote on her Brexit deal on Monday, throwing Britain's plan to leave the European Union into chaos.
2. Brexit vote delay backlash in the UK
May's tour of European capitals comes after British political leaders accused her of "contempt of parliament" in a joint letter over her delay of the Brexit deal
The British Eurosceptic MP and former Brexit minister Steve Baker told BBC Radio 4 that Conservative MPs should put forward letters of no confidence in May. He added that it's her "duty" to go.
Tony Blair's former Press Secretary told Euronews Britain is coming to be seen as "a bit of a joke" because of Brexit.
3. Grab the mace and run: Labour MP protests May's vote
Anarchy in the UK: in protest to May's decision to postpone the Brexit vote, Labour MP Lloyd Russell-Moyle grabbed the Commons' ceremonial mace last night. It represents the Queen's authority in parliament: without the mace, parliament cannot pass laws.
You can watch the incident in the video, above.
MPs shouted "Expel him!" and "Disgrace" as he walked, and the Speaker, John Bercow, demanded he put it back in place.
Russell-Moyle was suspended for the rest of the day.
He said: "The symbolic gesture of lifting the mace and removing it is that the will of parliament to govern is no longer there has been removed. I felt parliament had effectively given up its sovereign right to govern properly."
4. Takeaways from Macron's address
Twenty-three million people watched Emmanuel Macron's address last night on French TV.
The French President has promised a minimum wage rise and tax concessions in response to weeks of violent protests, measures that are expected to increase public spending by €8-10 billion.
Read more on Macron's concessions
5. Blockades are reported in several French high schools
High schoolers are protesting against Macron's education policies after Student union UNL called for mass mobilisation and a "Black Tuesday" ("mardi noir"). The union regrets that the government is "blind and deaf" to the youth' concerns.