Raw Politics: What is May's tactic behind delaying the Brexit vote?
Comments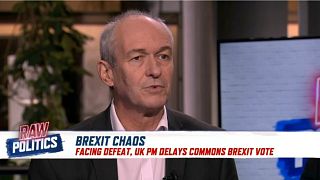 "She's going for the world record of kicking the can down road" — two MEPs on Monday evening's Raw Politics panel discussed the tactics behind Theresa May's decision to delay Tuesday's parliament vote on her Brexit deal.
Both British MEP Richard Corbett and German MEP David McAllister agreed that May is attempting to buy time in delaying the vote on her agreement, with Corbett saying he believes she is just "hoping something might get better."
However, McAllister predicted she will try to start renegotiations with the European Union when she travels to Brussels on Thursday, despite the clear message sent from the 27 EU government heads that a renegotiation would not be possible.
But what are the outcomes for these two scenarios? Click on the player above to find out.