Heathrow Airport to pay for EU staff to apply for right to remain post-Brexit
Comments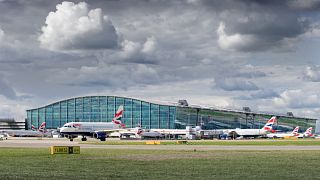 -
London's Heathrow airport will pay for its European employees to apply for the right to remain in the UK after Brexit, the company announced on Monday.
Heathrow CEO John Holland Kaye said the company will pay the £65 (€72) fee European employees will have to pay as part of their application for "settled status", which allows the recipients to live and work in the UK.
It is unclear how many employees will benefit from the scheme or how much money has been set aside for the purpose.
"Heathrow is an international business and we need a workforce that reflects this. It is critical for us to have diverse, happy and valued colleagues. Many of our people are worried about Brexit and this move will provide reassurance and certainty," Kaye said in a statement.
"In the past 12 months alone, our people have welcomed 80 million passengers through Britain's front door and we want to ensure that we retain and attract the best for life post-Brexit," he added.
What is settled status?
European citizens who have continuously and lawfully been living in the UK for five years will from March 30, 2019 — a day after the UK officially leaves the UK — be able to apply for "settled status".
They will have until June 30, 2021 to apply and the fee has been set at £65 (€72) for people over 16 and £32.50 (€36) for those under.
This status will grant recipients the same access as they currently do to healthcare, pensions and other benefits in the UK.
£1.6 billion
Heathrow, Europe's busiest airport by passenger numbers, also announced in October that it had raised £1.6 billion (€1.77 billion) from investors to build "financial resilience" in case the UK crashed out of the EU without a deal.
"This extends our liquidity horizon until the end of 2020 and ensures the airport has sufficient financial firepower to cope with a no-deal Brexit and still meets its obligations — including our expansion plans," Kaye said in a statement at the time.
It also guaranteed its suppliers that it would honour the Prompt Payment Code "well into the future" to "provide SMEs (small and medium enterprises) with some certainty as they plan for Brexit."