Europe's busiest airport gets go-ahead for third runway
Comments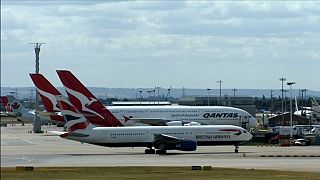 After decades of delays British MPS have given their approval for a third runway to be built at London's Heathrow airport.
Prime Minister Theresa May said it shows that Britain is open for business after Brexit.
78 million peoole used Heathrow in 2017, making it the busiest in Europe, and the new runway will cost nearly 15.9 billion euros.
Business groups such as the Confederation of British Industry have welcomed what is a giant construction project that will bring more jobs to London.
Ministers claim there will be built-in environmental protections - a claim dismissed as fanciful by protesters.
They say it will contribute to climate change and make the already noisy skies over the city even noisier.
Environmental activists staged a "lie-in" over the issue in Parliament's central lobby, just metres away from MPs preparing to vote on the proposals.
In a sign of the battles still to come, London Mayor Sadiq Khan said he would bring legal action to block the expansion while the owner of British Airways warned that it would not
accept higher charges for consumers and airlines.
"The Government is pressing ahead with the wrong option, resulting in intolerable noise levels and worsening air quality," Khan said on Twitter.
Heathrow's most high-profile opponent, foreign minister Boris Johnson, who once said he would lie down in front of bulldozers to stop the expansion, was in Afghanistan and so missed the vote - sidestepping the embarrassment of either not supporting the government or breaking his word.
In a letter to voters according to the Evening Standard newspaper, Johnson said he had not resigned over the issue because it would have achieved "absolutely nothing" as the odds in parliament were on Heathrow getting the go-ahead.