Climate marches across France take place at the same time as gilets jaunes protests
Comments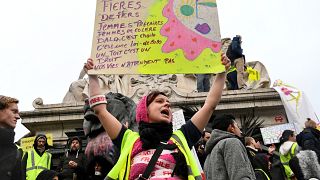 Thousands of French people have taken to the streets despite the gilets jaunes (yellow vests) protests to demand that the government take action to limit global warming.
Saturday's march, which has gathered 2000 participants in Paris alone, wants France to reach the goal set during the 2015 Paris accords to limit global warming to "well below" a rise of 2°C and to pursue efforts for the 1.5° goal as the UN's COP24 conference is still taking place in Poland.
Fearing last weekend's violence, the French Interior Minister, Christophe Castaner, said on Monday that the event should be postponed but the organisers decided to go ahead with it, reported French media.
Climate marches were organised all throughout France on Saturday.
In Lyon, authorities said there were 7000 people who participated in Saturday morning's march.
Some images from the different marches taking place around France
Placard reads: "End of the month, end of the world"
Tweet reads: "A lot of people at the climate march in Paris. Some yellow vests have joined in. There is no police presence."
"Pacific and non-violent march against global warming in Toulouse, we are thousands!"