Euronews takes you to Gilet Jaunes Parisian protests
Comments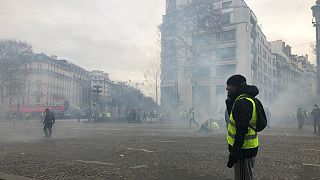 The Gilet Jaunes took to the streets for the fourth weekend amid rising tensions.
What was sparked by rising fuel prices has quickly become a social and anti-government movement with demonstrators seeking reform.
Euronews' Cube Editor Emmanuelle Saliba and Paris Correspondent Annelise Borges reported from the ground throughout the day.
Speaking to protesters
Saliba spoke to demonstrators to see why they were taking part. Two demonstrators from Besançon, eastern France, told Euronews that they are "fed up of how things are generally" saying that they were marching "to defend the few rights" they have.
Protesters from all over France took part in the demonstration and marched along the Champs Élysée avenue. "Protesters were clearly angry and wanted to be heard. A lot of people I spoke to were from other parts of France and they came up for this protest. They hadn't been to others," Saliba said.
Borges captured protesters chanting "Macron démission" or "Macron resign" along the Champs-Élysées amid tumbling approval ratings for the French President who is set to address the country next week.
"The only thing we want is a referendum for citizens to be able to cancel government," one protester from Marseille told Borges as he marched donning a yellow vest along the Champs Élysées. "We want the government to write in the constitution the possibility for citizens to ask for a referendum," he said.
Champs-Élysées clouded by tear gas
"I saw a lot of tear gas being thrown and stun grenades used to disperse crowds. It created moments of panic with people running," Saliba noted.
On the ground, Saliba saw police intermittently throwing tear gas at the protesters. "There didn't seem to be any reason for it except to disperse large crowds," she said.
Although Saliba didn't see violence directly around her, there were reports of clashes in different parts of the city. By 11.30 am, French Prime Minister Édouard Philippe announced that at least 481 people had been arrested in Paris with 211 in police custody.
"Every side street leading to the Champs were blocked off with either riot police or checkpoints. Police checked bags and patted people down, people were not allowed to bring gas masks or helmets in," Saliba said.
"It's quite hard to get out of the Champs-Élysées," Borges said at the protest, saying that protesters were being kept along the avenue. "They are not allowed to go north to the Arc de Triumph, nor south to the Place de la Concorde".
What next?
Although the movement was initiated in retaliation to rising fuel prices, the decision to revoke the fuel taxes Tuesday appears to have failed to dampen frustration among demonstrators.
Nearly 90,000 police were deployed across France today while 8,000 of those were positioned in the French capital.