Vote now: Which cities have the best and worst Christmas trees?
Comments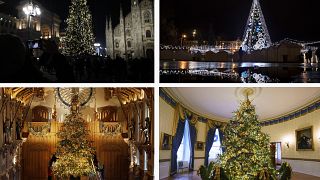 Some are modern, some classic, some ugly, and some very ugly — Christmas trees have sprung up in the streets and squares of major cities across the world.
We've put together a selection from Moscow to Paris, passing through Beirut. In Rome, photographs of the city's tree (sponsored by Netflix) before it had been uncovered were shared on social media, which led some to label it "the ugliest of 2018".
In Vilnius, Lithuania, officials chose an avant-garde installation, while dazzling, classic designs were displayed in Moscow.
A bright star lit up the tree outside the UK's parliament, and at the royal residence of Windsor Castle, firs dripping in gold decorations were erected.
Let us know which is your favourite: