Athens riots: police clash with protesters on 10th anniversary of teen's death
Comments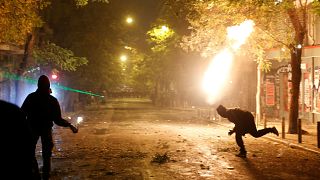 Greek riot police clashed with protesters in central Athens and the northern city of Thessaloniki following demonstrations to mark the 10th anniversary since the killing by police officers of an unarmed teenager in the bohemian Exarchia district near the centre of the Greek capital.
Earlier, hundreds had marched peacefully through the Exarchia district, where unarmed 15-year-old schoolboy Alexandros Grigoropoulos was shot dead in 2008. People laid flowers and lit candles during a memorial service on the spot where Grigoropoulos was killed.
Police had deployed more than 3,000 officers in Athens. Some in full riot gear formed protective cordons outside parliament and hotels in the city, while a helicopter hovered over the central Syntagma Square and neighbouring districts through the day.
However, after the evening march, groups of protesters set up rubbish bin blockades and torched them, while several cars were also set alight.
As the evening progressed, more violence erupted and several streets around Exarchia square and the Athens Polytechnic were once again turned into a battlefield, with repeated clashes between anti-establishment protesters and riot police. For several hours, groups of protesters played cat and mouse with police, coming out of side streets and from behind barricades to hurl petrol bombs, fireworks and rocks at them before retreating, while riot police in turn responded with tear gas and stun grenades.
Up until late at night, police had detained a total of 66 people and made 13 arrests in Athens.
Shortly after 10pm, the ambulance service was called out to help a 29 year old man who had suffered burns to his leg from a petrol bomb. The man was taken to Evangelismos hospital for treatment.
Two water cannon trucks were also present on the streets of Athens to help clear blockades in Exarchia and disperse rioters.
A balcony of an apartment in a building on Tositsa Street also caught fire, but was swiftly extinguished by the emergency services.
Groups of hooded youths set up blockades with rubbish bins in several streets around the Athens Polytechnic and some were set alight, while another group of anti-establishment protesters broke into the entrance of an apartment building housing Culture Ministry offices on Spirou Trikoupi Street and climbed onto the roof terrace.
"Exarchia, the district where Alexandros Grigoropoulos was murdered was turned again into a battlefield. The rioters overturned trash bins and set them alight as they hurled petrol bombs and rocks at riot police," said Euronews correspondent Mihalis Arampatzoglou.
Groups of hooded protesters and riot police also played cat and mouse in the northern Greek city of Thessaloniki, with violent clashes late into the night on two main fronts. Attacks by groups of hooded rioters hurling rocks and petrol bombs at riot police, predominantly in the areas surrounding the Aristotle University of Thessaloniki and the Thessaloniki International Trade Fair complex. One journalist suffered head injuries after being hit by a rock, while police made 52 detentions and 15 arrests.
There were also incidents in other parts of Greece, with protesters clashing with riot police during demonstrations in Hania and Heraklion in Crete, as well as in the city of Agrinio.
On the night of December 6, 2008, Grigoropoulos had been out with friends in Exarchia when he was killed as a policeman fired his gun following an altercation.
The policeman later said he had not aimed at the teen but he was killed by a ricochet.
Hours after Grigoropoulos was shot, thousands took to the streets of Athens, torching cars and smashing window shops and looting.
The ensuing two-week outburst of violence and riots spread to cities across Greece.
The policeman, Epaminondas Korkoneas, was convicted of murder and sentenced to life in prison.
His appeals trial is ongoing.
The second policeman present was sentenced to 10 years in prison and was granted conditional release several years ago.
The shooting, which triggered the country's worst riots in decades, was also fueled by anger over unemployment and economic hardship in a prelude to Greece's debt crisis.