Athens protest over treatment of migrants
Comments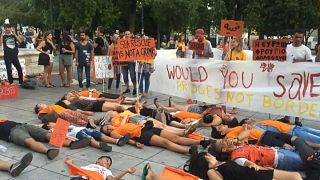 Rescue groups, supporters and refugees held a demonstration in central Athens to highlight what they call the increasing criminalisation of sea rescues and the anti-migration policies of some EU countries.
Some of the protesters lay down in front of banners that read "would you save us?" to bring attention to the problem of the thousands of people who die each year trying to reach Europe.
The predominant colour was orange, a reference to the life jackets usually worn by migrants picked up in the Mediterranean.
The rally in Athens was just one event in a series across Europe organised by the international movement Seebrucke that translates as Sea Bridge.
The movement is calling for the establishment of safe routes for refugees, safe harbors, an end to the criminalisation of sea rescues and humane conditions for refugees upon arrival.
Some also called for the release of prominent Syrian refugee Sara Mardini and Irish volunteer Sean Binder currently in Greek custody for allegedly facilitating refugees and migrants into Greece.