Aquarius migrant ship 'forced' to end rescue operations
Comments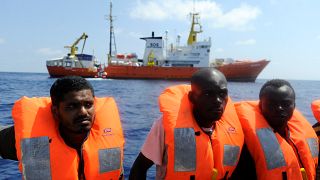 The Aquarius migrant ship will be ending its search and rescue operations in the Mediterranean, Doctors Without Borders (MSF) and its partner SOS Méditerranée have said.
The NGOs said on Thursday it was "forced to terminate the lifesaving operations" due to "sustained attacks on search and rescue by European states".
For the past two months, the ship has remained in port, due to what it calls a "sustained smear campaign" launched by the Italian government and backed by other European countries.
"We didn't see a future anymore with this vessel. Not only do we not have a flag, and so far we have not managed to secure a flag, but also the Italian Government and their legal department are running a smear campaign against the Aquarius," Head of Emergencies at MSF, Karline Kleijer, told Euronews.
Kleijer added "the latest accusation is waste [illegal waste disposal], and they accused that people coming from Africa are dangerous because they might have HIV on their clothes.
We have other accusations, we are accused of smuggling, so it just becomes extremely difficult to continue with the Aquarius."
Since 2015, the vessel and previous ships have rescued or assisted 80,000 people in the Mediterranean, according to MSF.
It also estimates 2,133 people have died in the Mediterranean this year, with departures from Libya accounting for the majority of lives lost.
The ship came to international attention over the summer after Italy closed its ports to migrant ships, which left The Aquarius stranded with people onboard.
Euronews was the only broadcaster onboard that voyage.
Italy's policy states that migrants rescued at sea should be returned to Libya by its coastguard, but the charity said Italy is not the only country to blame.
Kleijer added other European governments "are sitting quietly, waiting, watching how these boats are being removed from the Mediterranean sea while we are seeing people die".
She said: "We are apparently saying its totally acceptable to see people die at sea."
However, MSF says it will continue in its plight to rescue migrants making the dangerous sea crossings and will return with another boat.