Watch: 10 days at sea, the real story of the Aquarius
Comments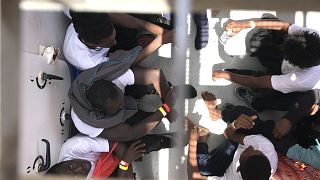 For us, journalists, bearing witness is both an instinct and a responsibility.
The Aquarius deployment came about because I wanted to see for myself how NGOs conducted search and rescue missions in the so-called "world's deadliest migration route".
I had reported on the refugee crisis for years - from the Turkish-Syrian border, but also from Greece, Macedonia, Hungary, Germany, France... I had seen fear and desperation. But also solidarity and hope.
I wanted to understand what this part of the story was all about. And what impact it had on the whole of the European Union.
Little did I know I would be reporting on a story that would threaten to split Europe apart.
10 days at sea: the real story of the Aquarius is about what happened aboard the humanitarian vessel while it found itself at the heart of one of the most serious storms Europe has ever faced.