U2 top 2018 Forbes music rich list
Comments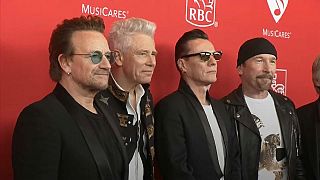 U2, Coldplay and Ed Sheeran were named the highest-paid musicians in the business by Forbes on Tuesday.
Veteran Irish rockers U2 top the list scoring $118 million (104m Euros) in pre-tax earnings, helped by their recent "Joshua Tree Tour," seen by around 2.7 million fans, and sales of their last album, "Songs of Experience."
Brit rockers Coldplay claim the number 2 spot, earning $115.5 (101.9m Euros) million from their two-year "A Head Full Of Dreams" tour.
27-year-old English pop superstar Ed Sheeran follows, with earnings of $110 million (97m Euros) this year.
The 10 highest-paid musicians pulled in $886 million, about the same as last year's combined tally.
Other artists to make the list include American superstars Bruno Mars, Katy Perry, Taylor Swift and Jay-Z.
1. U2 – $118 million
2. Coldplay – $115.5 million
3. Ed Sheeran – $110 million
4. Bruno Mars – $100 million
5. Katy Perry – $83 million
6. Taylor Swift – $80 million
7. Jay-Z – $76.5 million
8. Guns N' Roses – $71 million
9. Roger Waters – $68 million
10. Diddy – $64 million
Figures are for pretax earnings from June 1, 2017, through June 1, 2018, before deducting fees for agents, managers, and lawyers.
Sources include Nielsen SoundScan, NPD BookScan, insider interviews and estimates from Forbes.com.