Raw Politics: Does MP's 'filibustering' highlight the failings of British democracy?
Comments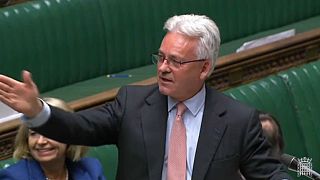 -
It's been dubbed as the footage that shows the failings of British democracy.
The clip, which you can view in the video player above, shows Conservative MP Alan Duncan speaking in the House of Commons on Tuesday.
He spoke at length about Scottish inventions such as the steam engine, the telephone, and penicillin.
It was an apparent attempt to "filibuster", a political procedure that sees politicians talk at length to delay or stop a decision being taken.
Duncan's waffling was seen as an attempt to buy the government time to respond to the announcement that it could be held in contempt of parliament for withholding legal advice on Brexit.
Scottish MEP Alyn Smith told Raw Politics: "What we have just seen is an example of how broken the British democracy is."
Smith then listed issues that have been avoided due to the focus on Brexit, which included climate change, the refugee crisis, and financial crisis.
"We're being distracted with a Brexit spectacle of overprotected posh-boys having a clever debating society," he added.
UK MEP Jacqueline Foster said: "If they hadn't of had so many stalling tactics to take Brexit through, there'd be more time to discuss important issues."
You can watch the full debate in the video player, above.