President George H.W. Bush's remains lie in state at Capitol
Comments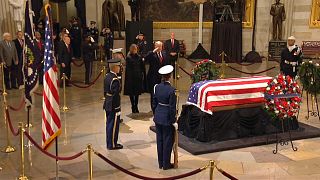 Washington's political elite have paid tribute to the late US President George H.W Bush as his body lay in state in the Capitol. 
Before a grieving Bush family, members of Bush's cabinet, fellow lawmakers and supreme court justices honoured the 41st president as his flag-draped casket entered the soaring Capitol Rotunda for the first official ceremony.
The 41st President, a heroic World War II fighter pilot, left Texas for one final flight to Washington accompanied by his son George W. as well as Laura Bush. His body arrived at Joint Base Andrews.
George H.W Bush served as a statesman, congressman, CIA director, Vice President and President.
The whole Bush family, including his service dog, Sully, watched as the former president was honoured with a 21-gun salute.
Friend and former Secretary of State James Baker, his former Defence Secretary Dick Cheney as well former Joint Chiefs Chairman Colin Powell were all there to say goodbye.
President Donald Trump and his wife later paid their respects, saluting Bush. Trump ordered the federal government to close during the official funeral at the Washington National Cathedral.
After the ceremony members of the public were allowed offer their respects. Mourners queued throughout the afternoon.
George H.W. Bush's death comes less than eight months after losing his beloved wife of 73 years, Barbara. They leave behind six children and seventeen grandchildren.