French PM Édouard Philippe preparing to suspend fuel tax increases, according to government source
Comments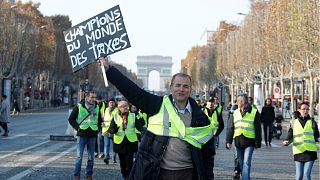 French Prime Minister Édouard Philippe is preparing to suspend planned tax increases on fuel, according to a government source quoted by the AFP and Reuters news agencies.
A turnaround in the decision would follow a weekend of violent protests in Paris that led to hundreds of arrests and almost 100 people injured. Until now, French President Emmanuel Macron has been reluctant to suspend the price hikes, tweeting on Saturday that the protests were "nothing to do with the peaceful expression of legitimate anger."
France has been hit by three weeks of protests from the 'gilet jaunes' (yellow vests) movement, which was originally launched as a response to the fuel price increases, and has since turned into a wider protest over social inequalities.
READ: 'Gilet jaunes': who are they and what do they want? | Euronews answers
According to AFP sources, a u-turn would not be as clear as simply suspending the fuel hikes as it "must be accompanied by other measures of appeasement."
The French government has not yet made a public comment about the decision.