Floating Christmas tree lights up Rio de Janeiro's night sky
Comments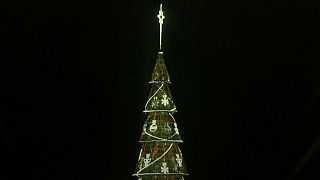 The most famous Christmas tree in Brazil was lit up again in Rio de Janeiro on Saturday night.
After two years of absence, one of the tallest Christmas trees was back at the Rodrigo de Freitas lagoon where thousands gathered to see the show of lights and fireworks.
Standing 70 metres (76.5 yards) and illuminated by more than two million lights, the metal structure lit up waters of the lagoon for seven minutes.
Locals and visitors watched the show, and most of them welcome the idea of having a Christmas symbol back in the city, to bring some peace to its residents.
The tree will be lit every night until January 6.