Berlin hosts Holocaust Survivors Night, recognising the 400,000 survivors still alive
Comments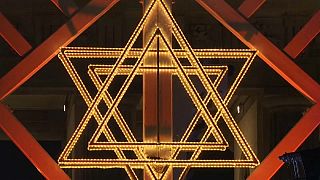 A commemoration dedicated to survivors of the Holocaust is being held in Berlin tonight, the 3rd day of Chanukah.
Events are also taking place in New York, Jerusalem and Moscow.
The second edition of International Holocaust Survivor Nights is the only event specifically honoring the 400,000 people who are still alive.
Last year it was hosted by the German Parliament, this year it will take place in the main Jewish Centre in Berlin.
It comes at a time of rising concern about anti-semitism in Germany and around Europe.
Euronews correspondent, Jessica Saltz reports from the Memorial for the Murdered Jews, in Berlin about why this specific event is important: