93-year-old great-grandmother crowned 'Miss Holocaust Survivor'
Comments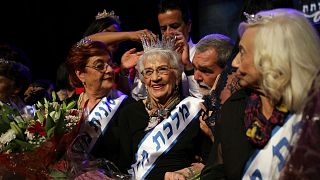 Copyright

REUTERS/Corinna Kern
A 93-year-old great-grandmother has been crowned 'Miss Holocaust Survivor' at an annual beauty pageant in Israel for women who lived through the Nazi genocide.
A dozen contestants took part in the pageant in the city of Haifa, donning sashes as they strutted down the catwalk in front of a cheering audience and panel of judges.
Organisers say the annual event seeks to bestow glamour and honour on women whose youth was stolen in wartime Europe, but who went on to build new lives in Israel.
Polish-born Tova Ringer, whose parents, four sisters and grandmother died at the Auschwitz concentration camp, said she was "very happy" with her victory.
"I wouldn't believe that at my age I would be a beauty," she said.
Some commentators have criticised the pageant, arguing that it cheapens the memory of the six million Jews killed by the Nazis.
However, spectators on Sunday argued that the event was an important reminder of the history of the Holocaust and a way of showing respect to survivors.
"It is very important for my generation to know the history of the Holocaust, of the Shoah, and it is very important for me also to support these people," said Jan Fischer, a 52-year-old credit card manager from Munich.