Brexit legal advice row adds pressure to Theresa May's exit plan
Comments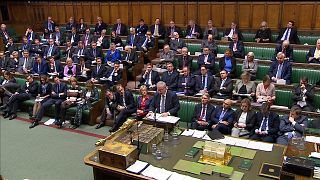 The opposition Labour party and five other political parties have accused ministers of holding parliament in contempt for failing to publish the full Brexit legal advice.
The attorney general Geoffrey Cox earlier gave parliament an overview, but not his full advice on Brexit, which he he described to MPs as a "commentary".
Cox said: "This deal ... is the best way I firmly believe of ensuring that we leave the European Union on March 29," Cox told parliament. "This is the deal that will ensure that happening in an orderly way with legal certainty."
However, Nigel Dodds, the leader of the Democratic Unionist Party, which props up May's Conservatives told Cox, ministers needed to see the full legal advice given to the government and denounced the Irish "backstop" plan as "deeply unattractive".
On Monday, senior ministers from the Labour party, the Lib Dems, the SNP, the Democratic Unionist Party, Plaid Cymru and the Green Party wrote a letter to the Commons Speaker stating the legal advice summary was in contempt of parliament.
The speaker John Bercow said on Monday evening there was an arguable case that the government did commit contempt of parliament. He promised a "rapid decision" on Tuesday.
If the motion is put through, it would mean Cox or the minister David Lidington could be suspended from parliament and miss a key vote next week.
May will be needing all the support she can muster for the key vote on December 11 on her Brexit deal, which she agreed with the EU in November.
The odds are not in the Prime Minister's favour, and could lead to a No-deal Brexit scenario, a seond vote on the deal, or a possible leadership challenge.
A defeat could also make a second EU referendum more likely.