Mexico's new President opens the doors to his home
Comments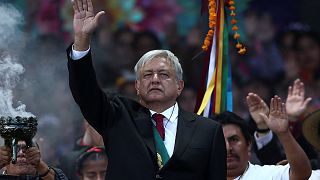 The new president of Mexico has been sworn in, promising to solve the country's economic problems with a new brand of left wing nationalism.
Andres Manuel Lopez Obrador, or AMLO as he's known as, took the oath of office on Saturday. However deputies in the chamber chanted "dictator" when he mentioned the name of Nicolas Madura - millions of migrants have entered Mexico to flee the Venezuelan President's regime.
But with Ivanka Trump looking on, Lopez Obrador said strengthening economic ties between North and Central America was the key to tackling the migration issue.
"To the President of the United States and the Prime Minister of Canada," he declared, "I say I would like to go forward with the North American Free Trade Agreement and reach an agreement between businesses and governments of three countries to promote the development of Central American countries as well as our own. In this way we confront the phenomenon of migration without needing coercive measures."
As well as pledging to tackle corruption, Lopez Obrador also fulfilled an election promise by throwing open the doors of the official Los Pinos residence to the public.
It will become a cultural centre. A former environmental campaigner, AMLO says that to save money he'll live in an apartment in the presidential palace instead.