Aston Martin's MENAT President talks F1 partnerships & Brexit impact
Comments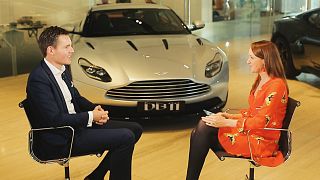 Luxury carmaker Aston Martin is a title sponsor of the Red Bull F1 racing team and marking its 105th year in business, the company is expanding its range to encompass SUV's, battery and electrical vehicles.
Dan Balmer, Aston Martin's President for the Middle East, North Africa and Turkey (MENAT) region admits that it's difficult to quantify the return on investment when it comes to F1, but adds that the research and development pays off.
"Aston Martin's motorsport breadth is so much more than just Formula One," he says, "So, the learnings we get for our road cars really comes from both our road cars and the endurance car sector as well."
Red Bull's F1 team will switch to Honda engines for the 2019 race season, meaning that Aston Martin will have to share sponsorship space. Despite this, Balmer believes that the move could be to the benefit of all parties, particularly if Red Bull is victorious on the track.
"If they win, then it's a win-win situation," he says, "I think that Honda have proven technology in the space and we're looking forward to having more power for that excellent chassis that the Red Bull car has."
HOW WILL BREXIT AFFECT THE UK'S LUXURY CAR MARKET?
Given that 30 percent of Aston Martin's sales are generated in the United Kingdom, the British carmaker is closely monitoring developments surrounding Brexit.
Despite any potential tariffs or trade hurdles that could come in the wake of the UK's withdrawal from the EU, Balmer believes that sales will remain stable.
"I think that both imported cars into the UK, and exported cars from the UK, will balance out," he says "Of course, people import cars. It's a big car market itself in the U.K. We just hope that continues in a stable fashion from now into the future."