Europe briefing: Deutsche Bank offices searched, Brexit economy report and Georgia elections
Comments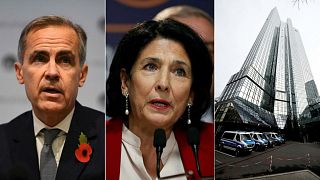 1. Deutsche Bank offices searched
Investigators have gone into the Frankfurt offices of Deutsche Bank as part of a probe by the public prosecutors' office into the rogue offshore finance industry.
A total of 170 officials from the Frankfurt prosecutors office, the Federal Criminal Police Office (BKA) and the tax investigation office were on the scene at the Deutsche Bank headquarters.
Deutsche Bank shares fell sharply after the news broke. They were down 3.73 by 11:50 am CET but these could keep fluctuating.
2. Send ships to Sea of Azov, Poroshenko urges NATO
Ukrainian President Petro Poroshenko urged NATO to send ships to the Sea of Azov following a maritime clash with Russia.
The ships would "assist Ukraine and provide security", he told Germany's Bild newspaper.
3. Putin breaks silence on Ukraine
Russian President Vladimir Putin on Wednesday shrugged off a threat from US President Donald Trump to cancel a meeting with him due to Moscow's seizure of three Ukrainian navy ships and accused Ukraine's president of orchestrating the crisis.
Russia seized the Ukrainian vessels and their crews on Sunday near Crimea, the Ukrainian region which Moscow annexed in 2014, over what it said was their illegal entry into Russian waters, which Ukraine denies.
4. Georgia election
Georgia has elected its first woman president.
French-born ex-diplomat Salome Zurabishvili had 59% of the vote, and her main opposition, Grigol Vashadze, had 40% with nearly all ballots counted.
5. Brexit economy report
A new report from the Bank of England warns that the UK economy could shrink by up to 8% in the event of a "disorderly" no deal Brexit, which would be worse for the country than the financial crisis.
British Prime Minister Theresa May said on Thursday that any decision to extend the Brexit negotiating period would reopen the exit deal she has agreed with the European Union, adding that she would not seek an extension.
"What is clear is that any extension to Article 50, anything like that, reopens the negotiations, reopens the deal and at that point, the deal could go, frankly, in any direction," May told a parliamentary committee.
Scroll through the blog below to see how we covered events this morning: