Discrimination against black people 'commonplace' in EU: Report
Comments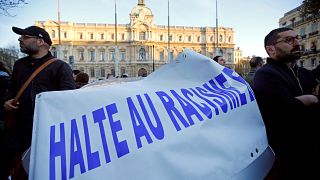 -
Almost a third of black people in the European Union have been on the receiving end of racial harassment in the past five years, a new survey revealed on Wednesday, describing discrimination in the bloc as "commonplace."
More than 5,800 first-generation immigrants or descendants of immigrants in 12 EU member states took part in the survey by the EU Agency for Fundamental Rights, which concluded that "simply "being Black" means often facing entrenched prejudice and exclusion."
Nearly a third of respondents (30%) stated that they had experienced racial harassment in the five years before the survey, with results varying widely between member states.
Finland had the highest rate of all 12 member states surveyed, with 63% of respondents reporting having been the target of offensive non-verbal cues, threatening comments or even threats of violence.
The Mediterranean island nation of Malta had the lowest prevalence (20%).
Five percent also said they had experienced a racist attack in the past five years. In most cases, a vast majority of victims eschewed going to the police, stating that they felt reporting the incident would not change anything or that they either didn't trust or were afraid of the police.
"Racial discrimination and harassment are commonplace," EUAFA director Michael O'Flaherty said in the report.
"Discriminatory profiling by police, too is a common reality," he added.
One-quarter of all people surveyed were stopped by the police in the past five years. Among these, four in 10 characterised the most recent stop as racial profiling.
Additionally, nearly 40% of respondents felt they had been discriminated against in the past five years because of their skin colour, ethnic origin or religion.
This was particularly true in the labour market, where "people of African descent are often engaged in low quality employment that does not correspond to their level of education," the report flagged.
Access to housing was equally problematic, with nearly half of the respondents living in overcrowded housing (45%), compared to 17% of the general population in the EU.
Despite the already damning evidence, the report noted that because a number of member states do not provide official information on racial or ethnic origin in administrative data, "the survey, therefore, cannot claim to capture the entire scale and complexity of the experiences of black people across Europe."
"In the 21st century, there is no excuse for racial discrimination. Yet black people in the EU today are still victims of widespread and unacceptable levels of discrimination and harassment simply because of the colour of their skin," O'Flaherty said
"We need to stamp this out once and for all. For this, member states need effective and targeted policies and laws to ensure black people are fully included in our society."
The European Network Against Racism described the report as "an important step in documenting the prevalence of Afrophobia" in the EU.
"These findings document what we have been saying for a long time: racism experienced by Black people in European society is structural, and we are in need of structural solutions," its chair Amel Yacef said in a statement.