EU27 endorses Brexit deal at summit, says Tusk
Comments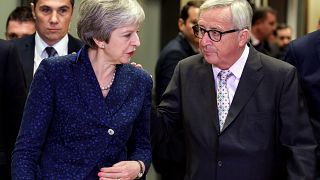 European leaders have arrived in Brussels ahead of a crucial EU summit on Brexit.
They are considering two key documents: the legally binding EU withdrawal agreement and a separate political declaration, outlining the UK's future relationship with the EU.
According to European Council President Donald Tusk, the EU 27 endorsed both documents, although support for UK Prime Minister Theresa May's Brexit deal is dwindling in Westminster.
There will be no formal vote, but the EU is expected to proceed after the consensus, despite Spain's threats to derail the process over Gibraltar and the heated debate over the Irish border.
However, even if the deal is accepted by the EU, it will still have a to pass a vote in the House of Commons in London - where many MPs, including some within May's own Conservative Party, have said they will vote against it.
EU officials, however, have made it clear that, with time running out before the UK's leave date in March, Britain won't get a better deal if it returns to the negotiating table.